2023: 7 Takeaways from Peter Obi's Arise TV interview [Must Read]| NN NEWS
Below are seven takeaways of the LIVE interview of the Labour Party presidential candidate, My. Peter Gregory Onwubuasi Obi, on Arise Television on Monday, October 24, 2022:
1. I did not donate 24 loaves of bread to flood victims
The Labour Party (LP) Presidential Candidate, Mr. Peter Obi, has denied claims that he donates 24 loaves of bread to thousands of flood victims.
Bashir Ahmad, Special Assistant on Digital Communications to President Muhammadu Buhari, on Sunday claimed that Peter Obi donated 24 loaves of bread to flood ravaged people in Anambra State recently.
In a tweet on Saturday, Obi publicised some items he donated to residents of Ogbaru area of Anambra, and the Internally Displaced Persons and Ahmad pinpointed some loaves of bread included.
Reacting in an interview on Arise Television, Mr. Obi said some of the displayed items were brought by well-meaning Nigerians in his entourage, and not only him.
He added that much of his contributions were cash donations running into multiple millions of Naira.
2. How I will increase Internally Generated Revenue
Speaking during the same interview, Peter Obi explained that the easiest method to increase the country's Internally Generated Revenue (IGR) is to make the country self-sufficient food-wise.
Obi noted that as long as the country relies on imported foods to augment its agricultural production, Nigeria will always be at the mercy of other countries while the country's Internally Generated Revenue suffers.
He reasoned that the first move will be to stabilize the output of the agricultural sector and make the country self-sufficient in terms of food.
According to him, the vast, empty and arable land in the northern parts of the country is the pride of the nation and envy of other countries.
He, therefore, vowed that early in his administration, he will ensure that the agricultural sector will be performing at its optimal capacity, which will include mechanized and industrialized farming.
He also noted that the agricultural drive will push down the demand for foreign exchange, which will in turn halp stabilize the economy.
Obi also assured that with such agricultural drive, not only will the country's Gross Domestic Products (GDP) rise, but that the Naira to Dollar value will come to as low as N500.
3. I will stop banditry, Fulani herdsmen menace to sustain agriculture
The Labour Party presidential candidate restated his commitment to stop the gnawing banditry and Fulani herdsmen menace which has seriously impeded the agricultural drive of the nation.
He lamented that the country has been brought to its knees by the catastrophe of flood ravaging the country as a result of climatic change which is already, and will impact more, upon the output and price of food commodities across the country.
He noted that, meanwhile, even threat comes from banditry and Fulani herdsmen menace which have hampered on the agricultural sector wherein farmers can no longer freely go to their farms cultivate, generate food and income, and sustain themselves.
He also decried the situation whereby those who cultivated their farms could not harvest their produce over life-threatening advances of bandits and Fulani herdsmen.
Obi argued that India, with its about 1.4 billion population, has achieved one hundred per cent food dependency through proper agricultural network and wondered why Nigeria, with one hundred to two hundred population, cannot achieve same feat.
He recalled that while he was in the United Kingdom as a student, India was rationing food supplies to its citizens while hunger took a heavy toll.
Today, however, those belong to the dustbin of history! he exclaimed.
He also mentioned other countries that have achieved one hundred per cent food dependency through proper agricultural endeavours to include Vietnam, Pakistan, Egypt, et al.
He, therefore, concluded that the only reasonable approach to sustain agriculture will be to stop the hydra-headed monster of banditry and Fulani herdsmen menace, particularly in the northern parts of the country.
4. I will declare war on the power sector
Mr. Peter Obi has assured that he will declare a total war on electricity generation and distribution as one one of his means to drive the economy and ensure self-sustenance.
Obi noted that no nation can move forward with adequate power generation and equitable distribution.
He, therefore, pledged to embark on multiple drives to ensure varied sources of electricity generation and fluent distribution.
He promised to encourage and support Indvidual and corporate efforts from any quarter to increase generation of electricity and urged all think-tanks in the power sector to come forward with any proposal that will drive power generation increase.
The Labour Party presidential candidate lamented the deplorable condition of electricity across the country and attributed it to lack of vision, foresight, willpower and accountability.
He assured that under his administration, if voted to power, power dependence will be assured.
5. My humanitarian antecedents on disaster are legendary
Mr. Peter Obi rebuffed claims that the motive behind his recent outreach to victims of flood disaster across various states in the country, involving his home Anambra State as well as other states, is political.
Mr. Peter Obi regaled on his antecedents to humanitarian needs and help to victims of disasters as nothing short of legendary.
He recalled when, during the flood disaster of 2012, he went on foot into the flood to meet victims of flood disaster in his state and shared their plight following which he donated money and food items to assuage their pitiable condition as a governor.
This, he noted, happened, when his contemporaries were riding high on long convoys and private jets away from the reach of their subjects [see picture below].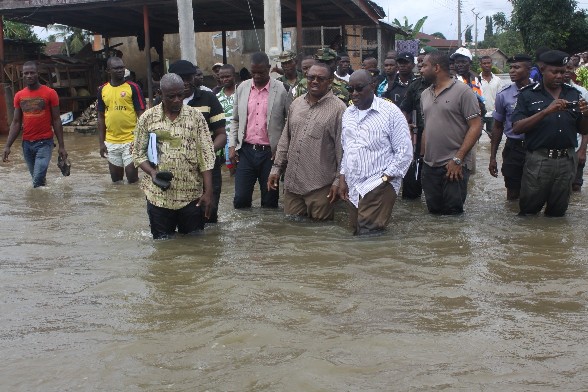 He also recalled how, some years ago while he was a serving governor, he approached the then president, Goodluck Jonathan, and told him he was going to Haiti to help victims of natural disaster.
To highlight his points clearer, he said that he withdrew his son from school and traveled along with him to Haiti where he shared goodwill items, including food, medicines, and other items of sustenance.
He, therefore, cautioned that his humanitarian outreach on flooding in certain states of the country is not for mere show but his natural inclination to align with those in challenging circumstances.
6. What will make my campaign promises different?
When asked what will make his campaign promises different since other candidates including the Peoples Democratic Party (PDP) presidential candidate, Atiku Abubakar, and the All Progressives Congress (APC) presidential candidate, Alhaji Bola Ahmed Tinubu, are making same promises, the frontline presidential candidate from the Labour Party said the difference is "trust".
He reasoned that it is a matter of who Nigerians will entrust with their lives, future and posterity based on their antecedents and goodwill.
With his signature "Go and Verify", he urged his interviewers, Dr. Reuben Abati and Mr. Oseni Rufai, and his listeners, not just to verify the veracity of his claims but also to check his antecedents as well as the antecedents of other candidates and determine who should be trusted.
He said that making promises is not enough but how far those promises were fulfilled, or at least how much efforts were put in place by the politician to achieve the goal.
Obi insisted that he not only identified the various problems bedeviling the country but proffered solutions when called upon to do so.
He also recalled how he governed Anambra State and urged his listeners to use it as a yardstick to measure him and his claims based on facts and available records, especially on the internet. 
Further details of the interview can be watched on Arise TV YouTube handle below:
7. Presidential candidates should tell Nigerians their plans themselves, not through proxies
The Labour Party presidential candidate has challenged other presidential candidates to tell Nigerians their plans for the country by themselves and not through proxies.
He posited that he attends social, corporate, intellectual, economic, even traditional events both at home and in the diaspora, meets people physically, engages them intellectually, answers their questions, comforts them and gives hope for a brighter and better Nigeria.
He dared other candidates to follow suit and desist from hiding behind proxies and spokesmen.
The interviewers, agreeing with him, faulted the case of Tinubu who shies away from invited events and gets represented by his running mate, Alhaji Kashim Ibrahim Shettima.
Other times, his aides will appear on television sets on his behalf and make excuses over 'why he could not appear'. 
Further details of the explosive interview can be viewed on Arise TV YouTube handle below: